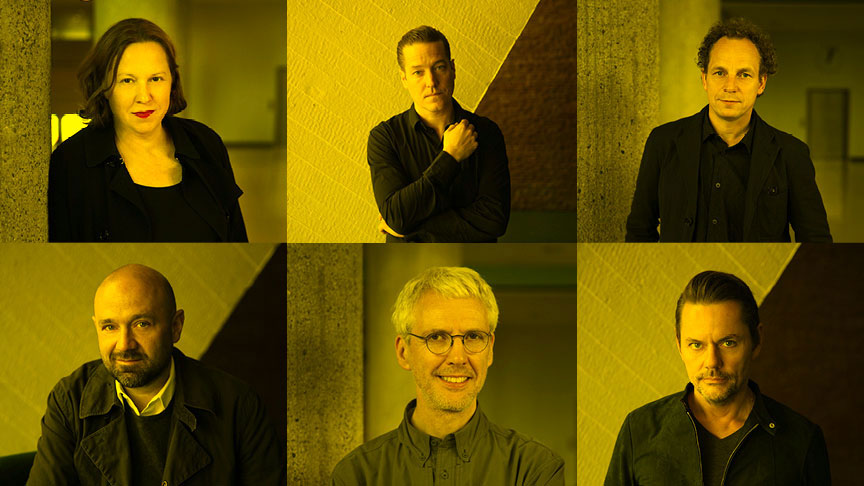 The Mentors
Markus Diebel
Markus Diebel has developed a truly interdisciplinary approach to everything he designs. The stages of his career have all added up to a holistic method that make him one of the highly original and influential minds in design. He embraces every single step of finding, sketching and substantiating an idea, bringing it to production and finding an audience and market.
Markus Diebel has founded various renowned platforms and companies for innovative design. A holder of over 60 U.S. patents and the recipient of international design awards from industry leaders such as the Industrial Designers Society of America (IDSA) and I.D. Magazine, Markus Diebel amassed a portfolio of outstanding achievements with companies like IDEO or his signature projects Incase and moreless. He co-founded the art-design group Design Raw and works as a teacher and mentor for the ID department at CCA San Francisco.
Lars Petter Hagen
Lars Petter Hagen may count as one of the few contemporary composers whose oeuvre is regarded by critics as visionary, elaborate and touchingly sensual at the same time. His music has been performed at festivals like Donaueschinger Musiktage and Märzmusik in Berlin by ensembles such as Ensemble Modern and the Oslo Philharmonic Orchestra.Working with vocal and instrumental music, sound installations and music for stage and film, he was awarded the Arne Nordheims Composers Prize and the Edvard Prize.
Lars Petter Hagen is the artistic director at the prestigious Ultima Festival in Oslo, the largest Scandinavian platform for contemporary music. Before that, he worked as artistic director at Ny Musikk, as well as the festivals Happy Days and Nordic Music Days in Oslo. Lars Petter Hagen has been invited to the Melbourne Art Biennale and the International Music Institute Darmstadt among others, where he inspired his mentees with his enthusiasm for passing on his experience and craftsmanship to future generations.
Eric Joris
Eric Joris develops intriguing methods for connecting state-of-the-art technology with artistic forms, often exploring and questioning the human senses, particularly our perception of sound, movement and space particularly. His performance group CREW generates live-art projects that can be described as immersive theatre, yet those projects move and shapeshift continuously, always operating on the borders between art and science, or beyond the limit of either.
The works of Eric Joris are frequently co-produced and/or sponsored by pioneering institutes for technology, such as Fraunhofer-Gesellschaft and Max-Planck-Institutes. He has received eminent prizes and fellowships from the French and Flemish government, as well as from various foundations. CREW is participating in the prestigious program 2020 3D Media, which has secured the backing of the European Commission.
Jürgen Mayer H.
In his projects, Jürgen Mayer H. explores the relationship between the human body, technology and nature, always with a profound sense for scientific precision and a unique open-mindedness and sensitivity. His buildings may seem like shapeshifters, organically oscillating between concepts and structures that originate from science, communication, sculpture and architecture.
Young architects, designers and urban planners travel around the world to see Jürgen Mayer H.'s astonishing buildings – be it the outstanding Metropol Parasol in Sevilla, the Belgian Hasselt Court of Justice, his famous border checkpoint in Sarpi, Georgia or the sublime private homes he designed, like the OLS House in Stuttgart, Germany. His work has been published and exhibited worldwide and is held by numerous collections, including MoMA New York and SF MoMA, as well as various private collections. Awards include the Mies van der Rohe Award Emerging Architect Special Mention 2003, the Holcim Award Bronze 2005 and the Audi Urban Future Award 2010. Jürgen Mayer H. has taught at Princeton University, University of the Arts Berlin, Harvard University, Kunsthochschule Berlin, the Architectural Association School of Architecture in London,Columbia University New York and the University of Toronto, Canada.
Bas Princen
Bas Princen trained as an industrial designer and architect before earning an international reputation for his photographic work, particularly for reflecting the transformation of urban space. In his projects, he focuses on the frictions between designed surfaces of cities and a "natural" landscape.
His exhibitions include: Shooting Space at Barbican, London 2014; Resources, Witte de With / Tent, Rotterdam, 2013; Photography, Landscape, Image, Architectural Association, London, 2012; projects at Venice Biennale of Architecture in 2004, 2006 and 2012; Reservoir, deSingel, Antwerp, 2011; Five Cities, Depo, Instanbul, 2010; Invisible frontier, AUT, Innsbruck 2008. Bas was awarded a residency in Los Angeles through the Mak Schindler Scholarship. In April 2004, he won the Charlotte Köhler Prize for promising young artists and architects in the Netherlands and at the 2010 Venice Biennale of Architecture, he was awarded the Silver Lion for his collaborative work with OFFICE Kersten Geers David van Severen.
Barbara Vanderlinden
Barbara Vanderlinden has originated and executed ambitious ways of analyzing and conveying curating as method on various platforms. She is less interested in rigid structures and static exhibition spaces than in more flexible projects that open up spaces and set a discourse in perpetual motion.
Barbara Vanderlinden is an international curator, art critic and art historian who is currently Professor of Exhibitions Studies and Spatiality at the University of the Arts Helsinki and Director of its Exhibition Laboratory. She was Visiting Professor of the first International Curator Course of the Gwangju Biennale Foundation and co-authored The Manifesta Decade, Debates on Contemporary Art Exhibitions and Biennials in Post-Wall Europe, the first major multidisciplinary publication on current biennial and large-scale exhibition practices. Her curatorial work is associated with the decade-long experimental project Roomade and its related exhibition Laboratorium. She has held the position of Artistic Director of the Brussels Biennial and curated platforms like the Taipei Biennial, Manifesta 2, European Biennial for Contemporary Art, and the large-scale survey exhibitions Generation Z at P.S.1 in New York.