Visit Pictopia - Exhibition
Thu, Mar 19–Sun, May 3, 2009

Admission: 7 €, concessions 5 €

Admission: 7 €, concessions 5 €

Admission: 7 €, concessions 5 €

Admission: 7 €, concessions 5 €

Admission: 7 €, concessions 5 €

Admission: 7 €, concessions 5 €

Admission: 7 €, concessions 5 €

Admission: 7 €, concessions 5 €

Admission: 7 €, concessions 5 €

Admission: 7 €, concessions 5 €

Admission: 7 €, concessions 5 €

Admission: 7 €, concessions 5 €

Admission: 7 €, concessions 5 €

Admission: 7 €, concessions 5 €

Admission: 7 €, concessions 5 €

Admission: 7 €, concessions 5 €

Admission: 7 €, concessions 5 €

Admission: 7 €, concessions 5 €

Admission: 7 €, concessions 5 €

Admission: 7 €, concessions 5 €

Admission: 7 €, concessions 5 €

Admission: 7 €, concessions 5 €

Admission: 7 €, concessions 5 €

Admission: 7 €, concessions 5 €

Admission: 7 €, concessions 5 €

Admission: 7 €, concessions 5 €

Admission: 7 €, concessions 5 €

Admission: 7 €, concessions 5 €

Admission: 7 €, concessions 5 €

Admission: 7 €, concessions 5 €

Admission: 7 €, concessions 5 €

Admission: 7 €, concessions 5 €

Admission: 7 €, concessions 5 €

Admission: 7 €, concessions 5 €

Admission: 7 €, concessions 5 €

Admission: 7 €, concessions 5 €

Admission: 7 €, concessions 5 €

Admission: 7 €, concessions 5 €

Admission: 7 €, concessions 5 €
Admission: 5 €, concessions 3 €, combo-ticket incl. 1 screening: 7 € / 5 €
open Wed - Mon 11:00 - 19:00 h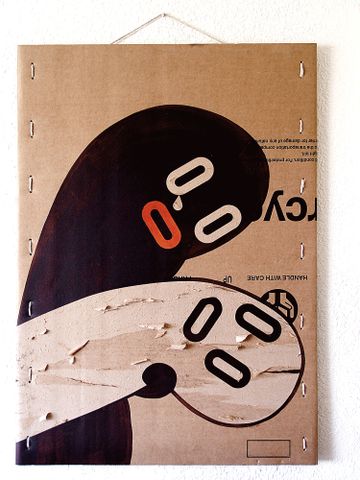 More than 30 international artists and designers transform the Haus der Kulturen der Welt into a living world of "Characters". Artistic strategies of remix and sampling, surreal and uncanny condensation and larger-than-life incarnations play as much a role here as interacting with the characters in digital and analog media.
The collective "Friends With You "(USA) stage a utopian landscape in the foyer made of gigantic toys that can be walked through. In the exhibition hall, Akinori Oishi (Japan) creates infinite language systems though simple typographic characters. James Marshall (USA), a former pupil of the artist Takashi Murakami, deconstructs Mickey Mouse and gives him a new identity. Sam Gibbons and AJ Fosiks (USA) wall sculptures made of wood reminiscent of totems are juxtaposed to paintings by "Pop Surrealists," like Mark Ryden (USA). A new installation by Boris Hoppek - inventor of the provocative "Bimbos" - shows the political dimension of character figuration. The Argentine collective Doma construct a gigantic marionette. Drawings by 20 international artists revolve around the difference between the reduced image world and real physicality. Olaf Breuning (CH) satirizes mass media phenomena in his staged photographs. As in the foyer, the visitor is not only a spectator here: Drivable characters like bumper cars invite you on board. When darkness falls, hitherto inanimate figures intermittently come alive - Twilight Zone Pictopia.
A project by Pictoplasma in cooperation with Haus der Kulturen der Welt.
Funded by Hauptstadtkulturfonds
Guided tours
sundays 29.3. - 3.5., 15 h I Participation: 3 € plus admission
With artists, scholars, curators and designers the mysterious world of character design.
More information: exhibition.pictoplasma.com