O Fan Ultimativo: Fan portraits and Fan stories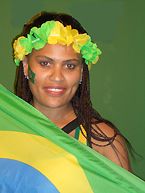 O Fan Ultimativo – Fan Portraits
Present your ultimate fan outfit, your favourite CD by a Brazilian band or whatever you choose – anything, in fact, that proves beyond all doubt that you are a Brazil fan.
Have a photo taken of you as a Brazil fan at the House of World Cultures when the Brazilian team is playing. Their World Cup matches, like all the others, will be shown on a big screen – and at the Saturday concerts featuring Brazilian musicians. We will publish your fan portrait here. You then participate in a draw with a variety of attractive prizes.
O Fan Ultimativo – Fan Stories
Would you like to tell us about your experiences in Brazil? Are you a Brazilian living in Berlin who would like to tell your story here? Do you know a Brazilian proverb? Would you like to say something about the , and that you have attended at Copa da Cultura at the House of World Cultures? Or perhaps talk about your favourite Brazilian film? Were you also excited when Brazil first won the World Cup in 1958?