Überlebenskunst – Berlins internationale Musikszene vertont den Klimawandel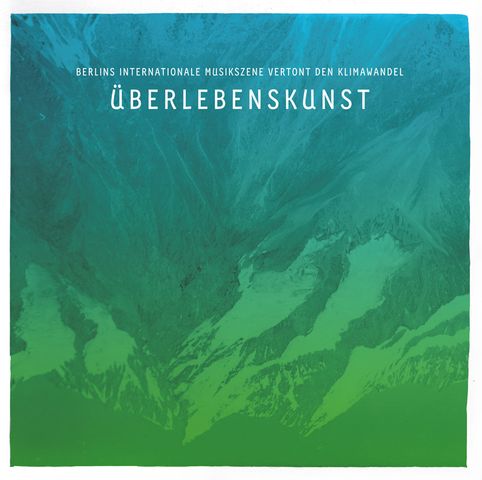 Feat. Jimmy Trash, Animal Cops, Marco Brosolo, September Collective, DM Bob, Lord Mouse
Autopilot, 2013
Trade edition: € 10,00
Out of print, possibly available in antiquarian shops.
In 2011, the Haus der Kulturen der Welt launched a concert series entitled HKW LOKAL, dedicated to international artists based in Berlin. And the people behind the HKW's music program did not stop there: they decided to put it up to musicians-in-exile in Berlin with a special commission: "Überlebenskunst". Also in 2011, the eponymous event series in Haus der Kulturen der Welt presented academic, political and artistic reflections on the issue of climate change. In other words, it was a series about surviving in an increasingly hostile environment. The musicians, bands and project groups who were invited to perform in the course of the series were confronted with a difficult question: what does climate change sound like? Naturally, part of the original plan was to produce a record of these musical deliberations.
The results could hardly have been more diverse. While the Australian Jimmy Trash and his Gunpowder Temple of Heaven composed a kind of 1960s soul-rock style mini-opera, the all-star trio September Collective (Barbara Morgenstern, Stefan Schneider, Paul Wirkus) staged a contest between nature as symbolized by the singing of the Chor der Kulturen der Welt and the automated world as personified by their electronic instruments. And not just metaphorically: three lap-top musicians took to the stage to face off against the Chor der Kulturen der Welt. DM Bob's melancholy dirge for the dreams of the lonely trucker strikes a completely different note. For their part, the Russian-Croatian combo Animal Cops place animals against humans while Lord Mouse & The Kalypso Katz helped themselves to the treasure trove of Trinidad's calypso music in their search for climatic inspiration. The band's name alone bears testimony to their affinity for the animal world. We are especially taken with this calypso line-up's nonchalant combination of serious political lyrics with cheerful, catchy grooves.
It's quite interesting how differently musicians approach such a topic. While one immerses himself with total earnestness and great effort, the other tries to avoid the hard work of properly addressing the issue and somehow bluff his way out of it. The net result is a kaleidoscope of musical styles which stand out all the more for being juxtaposed like this on an LP.
Artwork: Julia Kliemann (einspunktschwarz.de)