Berlin Documentary Forum 1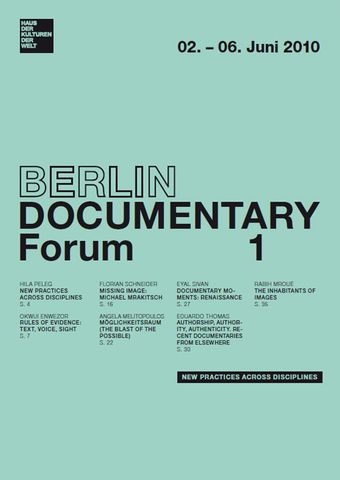 Editors: Hila Peleg & Bert Rebhandl for the Haus der Kulturen der Welt
German / English
80 pages
Berlin 2010
Price: € 3,00
Available exclusively at the shop of the Haus der Kulturen der Welt
Documentary work means questioning the very process of generating images. For the first time, an international meeting highlights documentary practices across disciplines. BERLIN DOCUMENTARY FORUM demonstrates the increasingly significant role of the documentary in the visual arts, performance, literature and cinema.
As the distinctions between reality and fiction, artifact and document are challenged today more than ever, the Forum engages with the documentary not as the picturing of reality but as a way to come to terms with reality by means of working with and through images and narrative. It seeks to explore new modes of reflection and media education in a world in which reality is never a static given, but a complex set of relations.
With contributions by Okwui Enwezor, Angela Melitopoulos, Rabih Mroue, Hila Peleg, Florian Schneider, Eyal Sivan and Eduardo Thomas, the BERLIN DOCUMENTARY FORUM 1 MAGAZINE includes the full program of events that took place at Haus der Kulturen der Welt from June 2nd to 6th 2010.