Film projections with commentaries by Remember Resistance
Double projections: 1 Berlin-Harlem / Fake Soldiers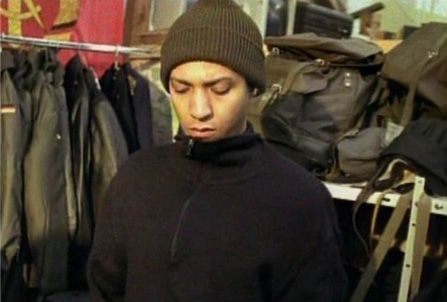 1 Berlin-Harlem
D, S: Lothar Lambert, Wolfram Zobus, Germany 1975, 100 min, Eng./Ger. (no subtitles)
C: Reza Dabui, Skip Norman,
With: Conrad Jennings, Lothar Lambert, Brigitte Mira, Claudia Barry, Ortrud Beginnen, Tally Brown, Ingrid Caven, Rainer Werner Fassbinder, and many others
The film narrates the efforts of a black American GI to start a new life in Berlin, working as a programmer at Siemens. It shows how he increasingly founders on the racist attitudes of German society. 1 Berlin-Harlem, which was produced in 1975, also revolves around the anti-Vietnam-war activities of the Black Panthers in Berlin. With hindsight, its architectural settings also seem to pronounce the impossibility of establishing a progressive post-colonial modernity in Germany: because of the desire for pop music, and for emerging emancipatory political movements, encapsulated in the desire for Black GI's, which are dashed in the face of the narrow-minded racist attitudes that wreak havoc on modern housing estates. ─ Beneath the surface of Germany's post-fascist late Modernity, there seems to be lurking another, uncanny layer, which the film brings to the surface now and then: the repressed residues of Germany's colonial past which are accentuated in the interpretation offered by Remember Resistance.
Fake Soldiers
D, S: Idrissou Mora Kpai, Germany 1999, 24 min,
C: Bernhard Wiesner
With: Francis Codjoe, Komi Togbonou, Caroline Peters
For two black Germans with an African background, their fake performance as rapping American GIs becomes their entrance ticket to white German society. German society's lack of awareness of its colonial heritage is related to the lingering echo of Germany's experience with war, in which the GI becomes the incarnation of the male 'victor' and 'liberator'. Visual commentaries accompany the film 1 Berlin-Harlem as double projections.
The screenings will be followed by discussions with the director Lothar Lambert. Unfortunately, Idrissou Mora Kpai had to cancel his participation on short notice.
A programme by Remember Resistance
(Jochen Becker, Julien Enoka-Eyemba, Sonja Hohenbild, Brigitta Kuster).
This programme is curated by the group Remember Resistance, an initiative founded on the occasion of the Anti-colonial Africa Conference Berlin 2004. Central to the group's work is an active debate with German colonial history, the process of decolonisation and its manifold after-effects, as in present-day migration, for instance. Remember Resistance also focuses on the works of African women film-makers.