Installations and an Interactive Library in the Foyer
Thu, Jun 12–Sat, Jun 21, 2008
Thu 12.6.-Sat 21.6. 10:00-22:00 h (except Monday)
and at the Opening on Wed 11.6. 18:00-22:00 h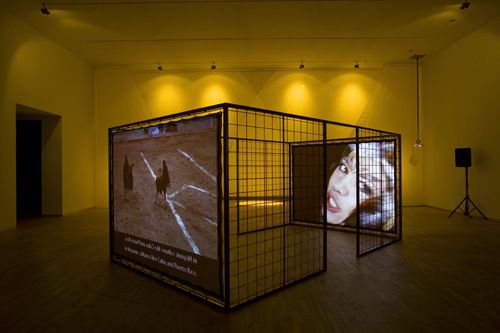 In Transit 08 will be turning the Foyer of the House of World Cultures into an interactive exhibition: In his open studio, Thomas Lehmen invites visitors – under the heading "Invitation" – to test their own creative and didactic abilities. Four video installations highlight the special features of the present festival, which has been consciously conceived as a trans-genre event.
Cock Fight
A 2-channel video installation by Lilibeth Cuenca
In a wire cage and dressed up as a cockrel, the artist performs a cock fight on the screen – with all the machistismic airs and aggressive rituals that go with it.
Vacuum
A 2-channel video installation by Raeda Sa'adeh
In Vacuum, an installation commissioned by the Sharjah Biennale in 2006, a women dressed in black can be seen against the background of a mountainous desert. The woman's occupation becomes apparent only on closer inspection: she operates a vacuum cleaner.
Daynightly they re-school you The Bears-Polka
A 2-channel video installation by Lucy Cash and Lin Hixson
Inspired by a poem by Paul Celan, the two members of Goat Island have endeavoured to translate performance into film – just as the translation of poetry overcomes linguistic boundaries by the choice of words and spatial changes.
The Last Performance (dot org)
Webproject and installation by Judd Morrissey
This complex installation is conceived as a documentation and as a further development of The Lastmaker, Goat Island's last work. The formal structure of the project is based on the circular form of a Croatian mosque dome. The form is only really fleshed out when contributions by writers, artists and critics arrive, who have responded to the stipulation of a 'final performance'. An interactive web-interface gives visitors, too, an opportunity to participate in the project.
Interactive Library
Each of the participant artists, performers and scientists can make three of their own books or DVDs available in the new, interactive Festival library. Visitors can take a look at these 'favourite works' and borrow them for a few hours. This process will create an interface for living dialogues and encounters outside the actual performances.