Haus, Park, Fluss
Architectural tour through HKW
Sun, Aug 14, 2022
Meeting point: box office
Sat, Aug 27, 2022
Meeting point: box office
Admission with special ticket "Long Night of the Museums"
Sun, Nov 20, 2022
Meeting point: box office
The majority of this tour takes place outside.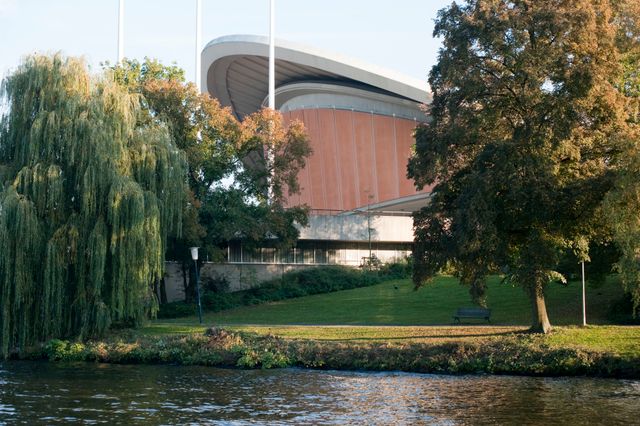 In 1956, the foundation stone was laid between the Spree and Tiergarten for the Congress Hall, the home of HKW since 1989. The history of the Tiergarten, laid out 300 years earlier as an electoral hunting ground, is inextricably linked to the origins of Berlin, to wars and to the city's division. The Spree River and its banks were also repeatedly altered according to political and economic exigencies.
These areas, as well as the many animal species that have settled around HKW over time, allow us to locally experience what might otherwise seem abstract – the boundaries between nature and culture are long dissolved. In many formats since 2013, HKW has been investigating the so-called Anthropocene – a new epoch dominated by human intervention in nature. In a tour through and around the building, Christopher Wierling and Corinna Wilms talk both about the architecture and construction history of the Congress Hall and about its function as a meeting place not just for people, but for foxes, bees and clans of sparrows.