Film programme 4: Lebanon I
New documentary films from the Middle East
Admission: 3 Euros, concessions 2 Euros
Admission: 3 Euros, concessions 2 Euros
Admission: 3 Euros, concessions 2 Euros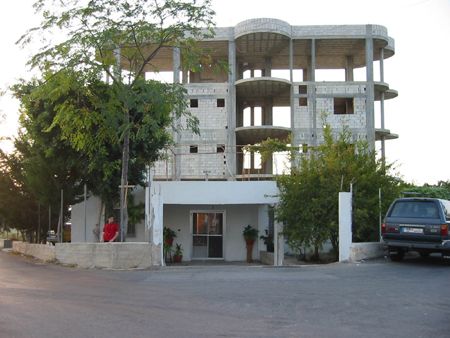 16.10 h | 18.35 h
In This House
D: Akram Zaatari, Lebanon 2005, 30 mins
In his work, video artist Akram Zaatari searches for a letter written to a family by a former Lebanese resistance fighter. He and his group had dislocated the family and used their house on the Israelian-Palestinian frontline city Ain el Mir for seven years as a fighting base.
16.45 h | 19.10 h
Three Posters
D: Rabih Mroué, Lebanon 2002, 17 mins
Theatre-maker Rabih Mroué reflects upon his eponymous performance and, as a consequence, upon the ethical and political questions posed bythe appearance of suicide bombers, as well as the historiography of the Lebanese Civil War.
17.10 h | 19.30 h
Ca sera beau. From Beyrouth with love
D: Wael Noureddine, Lebanon 2006, 30 mins
'Beirut or perhaps any town which is at war with itself …One has a choice between army and religion or religion and army. A dose of heroine costs five Dollars. I'm visiting a couple of friends and I'm sending my postcards.'
17.45 h | 20.05 h
I had a dream mom
D: Lina Saneh, Lebanon 2006, 45 mins
In her first film, theatre-maker Lina Saneh explores the irrational. 'I am telling my mother a dream. She understands it. She returns the ball. It slips through my fingers.'
Film Directors
Born in Lebanon in 1978, Wael Noureddine is a poet, writer and filmmaker.
Lina Saneh, born 1966 in Beirut, is a theatre-maker. She worked as an actress und wrote and staged many plays including 'Les Chaises' (1996), 'Ovrira' (1997), 'Extrait d'Etat Civil' (2000) and 'Biokhraphia' (2002).
Akram Zaatari is a video artist and curator who lives and works in Beirut. He is co-founder of the Arab Image Foundation in Beirut through which he developed his recent work on the photographic history of the Middle East.