Roda de Samba by Roda de Feijoada, Ixora
Sold out! Unclaimed tickets may be available at the box office.
Open-air on the roof terrace.
The event will be cancelled if poor weather is forecasted. The decision will be announced on Twitter and Facebook on the day of the event at approx. 5pm.

Important:
At this time, the GGG rule (tested-vaccinated-recovered) applies for this event. More about Covid-19 admission regulations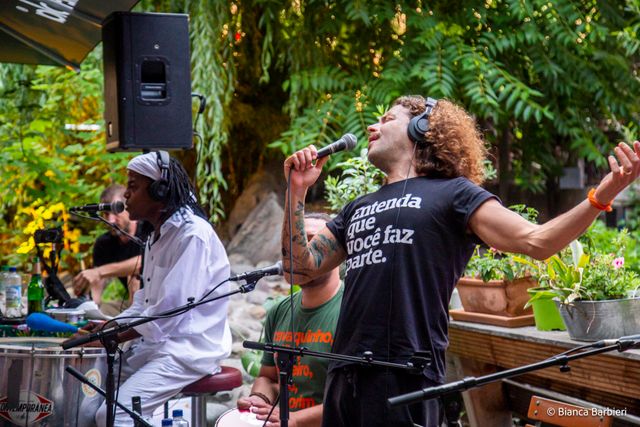 5.30pm Doors open
6pm Ixora
7pm Roda de Samba by Roda de Feijoada
Roda de Samba by Roda de Feijoada
Live music and DJ sets in a kid-friendly atmosphere, plus Brazilian cuisine: That's how the pre-pandemic Roda de Feijoada event series attracted nearly 15,000 visitors to the Festsaal Kreuzberg, making it probably the most successful series for Brazilian culture in Berlin. The seven-member Roda de Samba now brings this flair to 21 Sunsets with their new interpretations of popular and famous samba and chorinho pieces from the repertoires of the greatest in their field.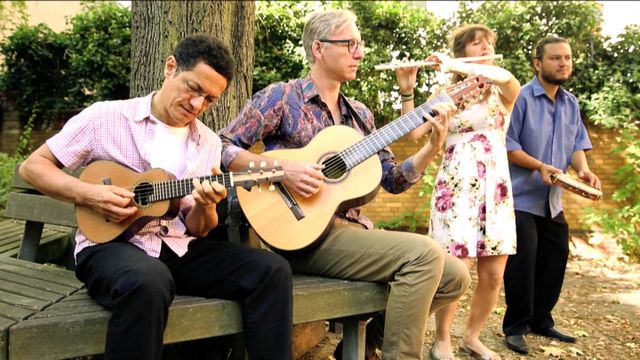 Ixora
Choro – or chorinho: At the end of the 19th century, this Brazilian urban music emerged, reminiscent of jazz in its interplay of European polka and African rhythms. Guitarist Hartmut Preyer, flutist Hortense Rigot and jazz guitarist Eudinho Soares on the cavaquinho and percussionist and composer Amoy Ribas on the pandeiro bring it into the present under the name Ixora. And just as the choro sounds immensely upbeat despite its name ("lament"), so does this quartet.