Concert, lecture performance
Chicks On Speed, Jasmine Guffond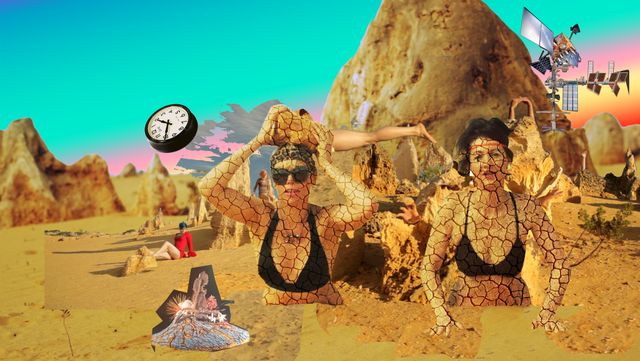 7pm: Jasmine Guffond: False Positives | Lecture, performance, Hirschfeld Bar (free admission)
8pm: Chicks on Speed: Speed Listening. A Copycacophony Performance | Concert, Foyer
Chicks on Speed: Speed Listening. A Copycacophony Performance
While the EU is reforming copyright, Chicks on Speed is exploring recognition technology as a creative laboratory. The music and performance group around Melissa E. Logan and Alex Murray-Leslie is studying the aesthetic and socio-political potentials of Audio ID software, which sifts through uploads. In their performance, they transform technology into a tool; automatic music recognition becomes a program to create new works. Since the late 1990s, Logan and Murray-Leslie, with Chicks on Speed, have built a multimodal collective of rotating members who embrace collaborative authorship, learning by doing, copyleft and open source software. Between music, performance, new media, fashion and design, the group develops live art performances, for example for the Venice Biennale, Centre Pompidou, Paris, MoMA, New York and the Museum of Contemporary Art, Sydney. In their commissioned work for Right the Right, they collaborate with music producer Christopher Just, artist and software designer Eric Schrijver, artist and graphic designer Tina Frank, fashion designer and stylist Kathi Glas and others. Using real-time action research and artistic experimentation, Speed Listening contributes to the big playground of the ready-mades the sweat of many artists and engineers provides the world with.
With Jeremiah Day, L. Twills, Michelle Rassmussen, Fábio M. Silva
Jasmine Guffond: False Positives
What will happen when all content on the web needs to be checked for potential copyright infringement? Comprehensive algorithmic monitoring of the World Wide Web is not yet a reality, but a forerunner of such technologies is already in use today: Content ID is a system developed by the world's largest search engine for the largest video portal in the world to handle the legal and economic claims of media enterprises. It is a recognition technology that automatically matches video uploads to a database of copyrighted material – but it is highly error-prone. Algorithmic control often produces false positives. In her lecture-sound performance, Jasmine Guffond works with an archive of false positives remixes. Using live uploads, she challenges the Content ID system and discusses the consequences brought on by algorithmic acts. The sound artist and composer works at the interface of social, political and technical infrastructures. By transforming data into sound, she lets her audience hear phenomena that are usually beyond human perception. What happens when personal behaviors and decisions are reduced to data streams and thus become traceable?
Chicks on Speed: Speed Listening:
Very special thanks to Boris Edelstein and the The garageCube team for
modul8 and MadMapper.
Sound support by Andreas Stoiber and Audiophile Circuits League.
In Abyss We Live
Qianhui Qian
2019
Pre-show Sound Installation 06:19
Dimensional Variable
2 sheets of metal, New musical instrument Collaboration:
Øyvind Brandtsegg
Visual notation:
Cat Hope
Costumes:
Kathi Glas
Dinu Bodiciu
Live Video:
Mieke Ulfig
Digital Live Art:
Einar Grinde
"Architektur ist geiselnahme"
Open broadcast:
Eric schrijerver