Opening: Find the File
with Bernadette La Hengst pres. Liverbirds revisited, Tellavision & Derya Yıldırım, Olith Ratego & Chor der Kulturen der Welt, Aérea Negrot, DJ Raph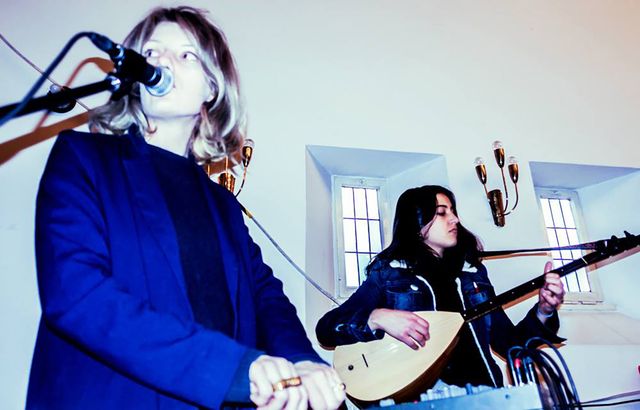 8 pm Opening | Concerts, Auditorium
Aérea Negrot
Tellavision & Derya Yıldırım
Bernadette La Hengst pres. Liverbirds revisited
Olith Ratego & Chor der Kulturen der Welt
10 pm DJ Raph | Live set, Hirschfeld Bar
Opening
with Aérea Negrot, Tellavision & Derya Yıldırım, Bernadette La Hengst presents Liverbirds revisited, Olith Ratego & Chor der Kulturen der Welt
Open: File. On the opening night, Berlin musicians plunge into digital collections, band archives, documented and passed down in four contributions:
For Aérea Negrot, memory is not only the starting point but also the destination. With her expressive voice she conceptualizes and reinterprets downloads from the Free Music Archive. Negrot is used to building bridges; from the Berghain to the Sydney Opera House, the producer, singer, DJ and trained ballet dancer fascinates audiences with her amalgam of technoid grooves, classical vocals and abstract pop.
With Tellavision & Derya Yıldırım, flying synths and haptic drums meet the Turkish bağlama lute. The two musicians have rummaged through sound art on the web and the more than 5,000 digitized works of Turkish art and folk music in the online archive trtnotaarsivi.com. Using loops, samples, musical and lyrical quotes, they translate the material into new pieces between avant-garde post-pop and psychedelic jazz-folk.
The agitator chanteuse Bernadette La Hengst presents the living archive of her female role models, the legendary Liverbirds, the first girl band to play their own instruments. They traveled from Liverpool to Hamburg in 1963 to rock the Star Club. La Hengst has been friends with the band since the 1990s, is currently working on a film documentary with them and has brought band members Mary Dostal on bass and Sylvia Saunders on drums back together for a concert at HKW.
Under the direction of Barbara Morgenstern, the Chor der Kulturen der Welt and singer Olith Ratego revive the era of the Benga pioneers. The style evolved in the years before Kenya's independence from the influence of Afro-Cuban rumba, Congolese finger-style guitar, South African kwela and the songs of the Luo from the southern Nile region. They use documentary material from the Nairobi organization Ketebel Music – one of the country's few initiatives to research regionally specific music cultures.
DJ Raph
From the archive to the club: Many testimonies of pan-African oral history are stored in the German provinces – in an extensive collection of ethnographic Fieldrecordings at the Iwalewahaus. As part of the Mashup the Archive project, producer DJ Raph traveled from Nairobi to Bayreuth to listen his way through the multi-faceted archival footage and reactivate the preserved material. The result is his celebrated 2018 debut Sacred Groves. With a keen sense for the original material, he puts the songs and rhythms of pre-colonial times at the center of the tracks with long samples carried by subtle soundscapes, intertwined with feverish beats and supported by heavily grooving basses.