Forecast Festival
In English

Throughout the entire building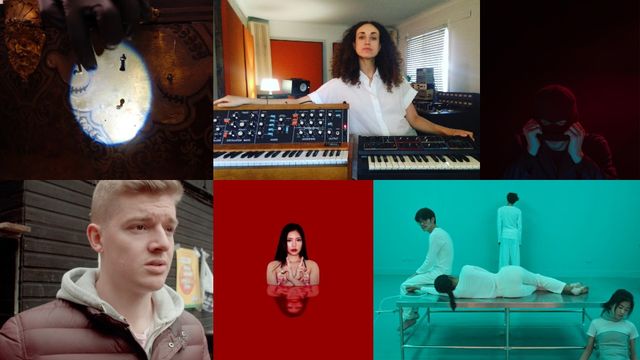 Film and sound projects, exhibition design, radio, artistic intervention: The third edition of the mentoring program again promotes the transdisciplinary exchange of forward-looking ideas.
For the grand finale, the mentees will reveal what they have been working on over the past six months with their mentors—museum director Tulga Beyerle, curator David Elliott, video artist Omer Fast, musician Holly Herndon, artist Laura Lima, and curator and producer Peter Meanwell. Together they present their innovative projects: from an experimental science-fiction radio drama, to a soundtrack for the post-human future, to a critical alternative to traditional museology presentation.
At the Forecast Forum in May 2018, the mentors each chose one project from six categories. They will now be presented at the Forecast Festival:
Invasive Design
Backchannel Tools
Prototype exhibition
Mentee: Commonplace Studio
Mentor: Tulga Beyerle
Looking
The Exhaustion Project
Dance performance, video installation, exhibition, and concert
Mentee: Abhijan Toto
Mentor: David Elliott
Moving Image
Augustijn
Video installation
Mentee: Omar A. Chowdhury
Mentor: Omer Fast
Composition
A Music Report on the Human Species: Beyond Extinction
Music and video performance
Mentee: MIIIN
Mentor: Holly Herndon
Living Matter
Organism 518400
Immersive Installation
Mentee: Saverio Cantoni
Mentor: Laura Lima
Beyond Radio
Frequency Interference
Sound installation and radiophonic performance
Mentee: Julia E Dyck
Mentor: Peter Meanwell
On Saturday, Oct 13, at 6 pm, the festival will also host Forecast's new transnational initiative Housing the Human, a collaboration of five European festivals and institutions. Presentations and discussions will play through fictional scenarios of possible futures, which explore correlations between architecture, urban planning, and design, presented and tested through tangible prototypes.
Forecast is a project by Skills e.V. in cooperation with Haus der Kulturen der Welt, and supported by the Federal Government Commissioner for Culture and the Media. Under the auspices of Heiko Maas, Federal Minister for Foreign Affairs, and Thorbjørn Jagland, Secretary General of the Council of Europe. Supported by Goethe-Institut / Max Mueller Bhavan, Kingdom of the Netherlands, Lithuanian Culture Institute, Koreanisches Kulturzentrum, Conseil des arts et des lettres du Quebec, Embassy of Canada, Future Architecture Platform, Co-funded by the Creative Europe Programme of the European Union. Presented by brand eins and Le Monde diplomatique
Housing the Human is a project by Skills e.V. in cooperation with Copenhagen Architecture Festival (CAFx), Demanio Marittimo. Km-278, Istanbul Foundation for Culture & Arts IKSV, and Z33. It is supported by the Federal Institute for Research on Building, Urban Affairs and Spatial Development BBSR within the Federal Office for Building and Regional Planning of Germany BBR, and held in collaboration with acatech.