Mark Teh: Ashes / Exiles
Performance by Faiq Syazwan Kuhiri and Imri Nasution
Admission: Day ticket 10€/7€ (incl. entry to the exhibitions and guided tour)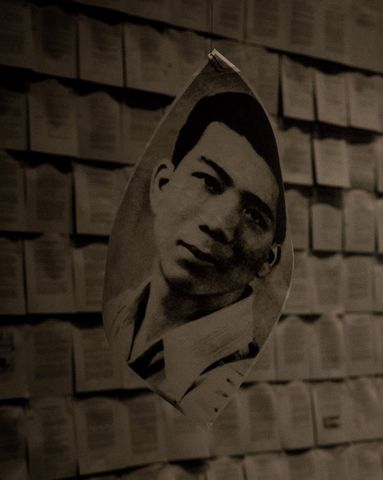 In his performance lecture, Mark Teh examines how public enemies are created, circulated, and remembered in Malaysia through the figure of Chin Peng, a communist leader and once the most wanted man in the British Empire.
Faiq Syazwan Kuhiri is an actor, performer, and member of the devised theatre based in Kuala Lumpur. His most recent collaborations include his current work, The Complete Futures of Malaysia Chapter 1, which is part installation, part research, and part performance project that he produced together with Ali Alasri, Mark Teh, and Wong Tay Sy. In 2016, he realized B.E.D (2016), a site specific dance piece choreographed by Lee Ren Xin, and in 2015 Mark Teh's documentary theatre performance Baling. Other projects include 2 minute solos (Ballad Of The Ultras, 2014) and Something I Wrote (2013).
Imri Nasution is a graduate of the Malaysian Film Academy. Since earning his degree, Nasution has co-founded a production company called Kino-i Pictures. In addition to filmmaking, he has realized a variety of projects ranging from music videos and documentaries to drama and comedy series, and many other formats. He currently teaches film at local universities while also directing film projects and contributing to several arts and community projects.
Mark Teh is a director, researcher, and organizer whose diverse projects are particularly engaged with the issues of history, memory, and the urban context. His collaborative practice is situated primarily in performance, but also operates via exhibitions, interventions, new media, education, curating, and writing. He conceived and directed Baling (2015), a documentary performance that reinvestigated the historic 1955 Baling Talks in Malaya. Mark graduated with an MA in Art and Politics from Goldsmiths, University of London, and is a member of Five Arts Centre, a collective of interdisciplinary artists, producers, and activists in Malaysia.