Salon für Ästhetische Experimente
#3: Annika Haas and Tomomi Adachi: Lectüre, Lektüre, Lecture, Lektschür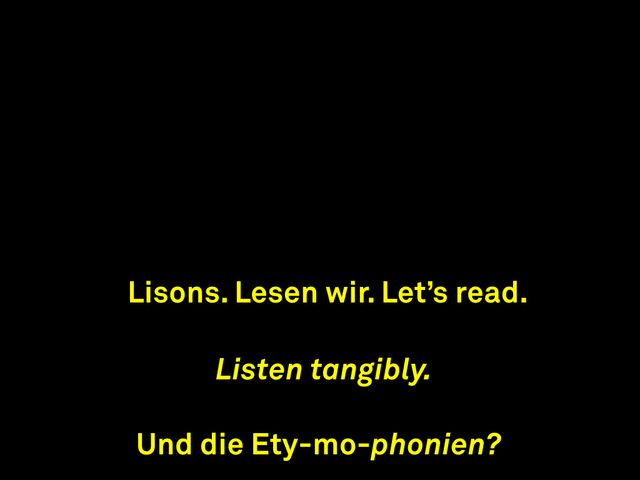 The third Salon 2017 hosts Annika Haas, member of the Graduiertenkolleg "Das Wissen der Künste", and sound poet and performer/composer Tomomi Adachi. Together they examine the semantic and acoustic transitions between writing and speaking, text and sound. Inspired by Hélène Cixous they interrogate the lecture format and unfold poetic responses in-between the voices and the phonetics of text.
Annika Haas is part of the research training group The Knowledge in the Arts at the University of the Arts Berlin. She studied European Media Studies at the University of Potsdam as well as Art and Media at UdK and the California Institute of the Arts. She just started her doctoral research on the aesthetic dimensions and mediality of Hélène Cixous' and Jean-Luc Nancy's writing.
Tomomi Adachi is a performer/composer, sound poet, instrument builder and visual artist. He performs his own vocal and electronic compositions, sound poetry, as well as improvised and contemporary music. His site-specific compositions, compositions for classical ensembles and choir pieces for untrained musicians have been presented internationally, including the institutions Tate Modern, Maerzmusik, Centre Pompidou, Poesiefestival Berlin and Walker Art Center. In 2012 he was a guest of the DAAD "Artists-in-Berlin" programme.
Salon für Ästhetische Experimente is a collaborative project with the Graduate School at the Berlin Center of Advanced Studies in Arts and Sciences at Berlin University of the Arts. The Graduiertenschule is supported by the Einstein Stiftung Berlin.