Louis Moholo-Moholo, Rastig/Drescher/Rasmussen, X-Ray Audio Live, Conlon Nancarrow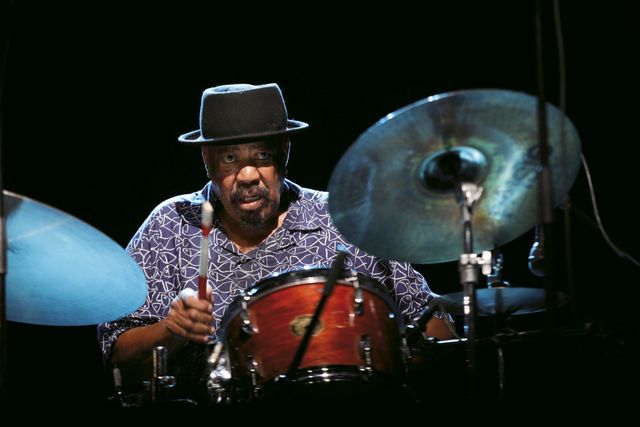 6 pm: Conlon Nancarrow's Player Piano | Vortragssaal
7 pm: Lecture concert: X-Ray Audio Live with Guido Möbius | Hirschfeld Bar
8 pm: Rastig/Drescher/Rasmussen | Auditorium
9 pm: Louis Moholo-Moholo: 4 Blokes | Auditorium
Conlon Nancarrow's Player Piano
Conlon Nancarrow's rhythmically complex, polyvocal compositions go beyond the bounds of what is playable for the human individual. In 1947, disappointed by the limited possibilities of ten fingers, he turned to writing exclusively for the player piano, stamping his compositions single-handedly into punch cards. Dominic Murcott has adapted such a piano for Nancarrow's compositions which at HKW will be performing Studies for Player Piano – completely without a pianist. With an introduction to the work from Dominic Murcott and José Wolffer
Lecture concert: X-Ray Audio Live
In X-Ray Audio Live Stephen Coates tells the incredible story of soviet bootleggers who cut forbidden music into used X-ray plates during the Cold War. Sound artist Aleks Kolkowski cuts a fresh X-ray bootleg live.
Rastig/Drescher/Rasmussen
The pianist Louis Rastig, organizer of Berlin's avant-garde Jazz festival A l'Arme!, drummer Marcel Drescher and the saxophonist Mette Rasmussen move between Progressive Rock, Punkjazz, electro-acoustic improvisation, and Drone. Lyrical and raucous, the trio install an update for Free Jazz.
Louis Moholo-Moholo
The exceptional drummer Louis Moholo-Moholo began his career with the legendary Blue Notes with whom he fled the Apartheid regime in 1964. At HKW he is accompanied by a star-studded squad: Jason Yarde on sax, Alexander Hawkins on piano and John Edwards on Bass.