Les Rencontres Internationales
Dispossessions (Audi) | Breakaway (Audi) | Slow Ahead (Audi) | Anthropologies (Audi)
Screening Sessions in the Auditorium (Audi) and Theatersaal (Ths)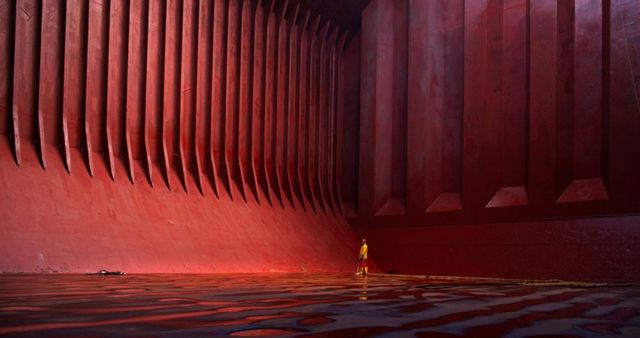 3 pm: Dispossessions (Auditorium)
Wojtek Doroszuk: Prince | Exp. documentary | hdv | colour | 0:18:50 | Poland, Congo-Brazzaville | 2014
Rob Todd: Ice | Exp. film | 16mm | b&w | 0:09:00 | USA | 2015
Nicolas Boone: Psaume | Fiction | 4k | colour | 0:48:20 | France, Senegal | 2015
Wojtek Doroszuk follows a man through the city in Brazzaville. This daily walk is like a ritual amongst all the chaos. Rob Todd examines variations in the light as a condition of possible vision. Nicolas Boone places us in a near future, in which the villages of a Sub-Saharan region are deserted, and where only the mad, the disabled and child soldiers continue to roam the parched lands. A social life is tough in this climate of survival.
5 pm: Breakaway (Auditorium)
Matti Harju, Joakim Pusenius: Tomorrow was Magnificent | Exp. fiction | 4k | colour | 0:15:25 | Finland | 2015
Simo Ezoubeiri: Ladder | Fiction | hdv | colour | 0:07:26 | Maroc | 2015
Tommaso Donati: Faim | Exp. fiction | hdv | colour | 0:16:04 | Suisse, France | 2015
Quy Minh Truong: Déjà Vu | Exp. film | hdv | colour | 0:09:00 | Vietnam | 2015
Henrik Lund Jörgensen: The Recruitment (And Escape) Of A Plastic Soldier | Video | 4k | colour | 0:10:15 | Denmark, Sweden | 2015
Wichanon Somumjarn: The Young Man Who Came From the Chee River | Exp. fiction | hdv | colour | 0:16:38 | Thaïlande | 2015
Michael Macgarry: Sea of Ash | Fiction | hdv | colour | 0:11:57 | South Africa, Italy | 2015
Matti Harju and Joakim Pusenius suggest a state of silence intersecting the notions of beginning and end. Simo Ezoubeiri films a man whose wife has left him alone after 30 years together. Tommaso Donati observes a homeless woman looking for her dog and the caretaker of the Museum of Prehistory. They cross paths united through the same primary need and move about seeking something higher. Minh-Quy Truong evokes the feeling of déjà vu. People are looking for each other, thinking that they will find one another, although it is only an illusion of the mind. Henrik Lund Jörgensen refers to landscapes of the romantic pictorial tradition and films by Carl Th. Dreyer. He films young men in their desire to enrol and desertion. Wichanon Somumjarn follows a man responsible for requisitioning payment drafts, facing the contradiction between his obligations and aspirations. Michael Macgarry reinterprets Thomas Mann's short story, 'Death in Venice,' and the eponymous film by Visconti, following a young immigrant from West Africa, in his journey from the Italian Alps to Venice.
7 pm: Slow Ahead (Auditorium)
Mariangela Ciccarello, Philip Cartelli: Lampedusa | Exp. fiction | hdv, super8 | colour and b&w | 0:13:44 | Italie, USA, France | 2015
Mauro Herce: Dead Slow Ahead | Documentary | hdv | colour | 1:14:00 | Spain, France | 2015
Mariangela Ciccarello and Philip Cartelli evoke the volcanic island that appeared in 1831 several miles from the island of Lampedusa, causing international conflict, before disappearing six months later. We cross the ocean on a cargo ship with Mauro Herce. The ship's machinery appears to devour the sailors. This may be a drifting boat, or just the last specimen of an endangered species, with its unstoppable engines.
9 pm: Anthropologies (Auditorium)
Omar Chowdhury: The Colonies at Dusk | Video | hdv | colour | 0:12:49 | Bangladesh, Australia | 2014
Iván Argote: Barcelona | Video | dv | colour | 0:05:16 | Colombia, Spain | 2014
João Vieira Torres, Tanawi Xucuru Kariri: Toré | Exp. documentary | hdv | colour | 0:15:00 | Brazil | 2015
Lucia Prancha: Sebastião, O Fantasma | Fiction | hdv | colour | 0:14:57 | Portugal, USA, Brazil | 2014
Marco Godoy: The System | Video | hdv | colour | 0:02:30 | Spain, Bolivia | 2014
Mathieu K. Abonnenc: Secteur IX B | Fiction | 4k | colour | 0:42:35 | France | 2015
Omar Chowdhury delves into an increasingly sombre landscape, near the former gold mines in the Province of Victoria, Australia. Iván Argote sets fire to the Christopher Columbus monument in Barcelona's Las Ramblas district. João Vieira Torres and Tanawi Xucuru Kariri film a ritual in Brazil and question what can be seen. Lucia Prancha films the inhabitants of an island in Northeast Brazil, some of whom think they are direct descendants of King Sebastian of Portugal, who died in a battle in the 16th century. Marco Godoy broadcasts a recording of Eduardo Galeano over the system in the Bolivian jungle, one of few regions in the world resistant to progress. In dialogue with the book 'L'Afrique fantôme' by Michel Leiris, Mathieu K. Abonnenc examines the conservation of an anthropological collection brought back by the Mission Dakar-Djibouti. The film reveals the destiny and the memory of archives through an imaginary account that indicates the status of the relationships between the people.