Astronauta Pinguim, E S B, and Qluster
Sat, Sep 5, 2015
Auditorium
Admission: Evening ticket 14€/10€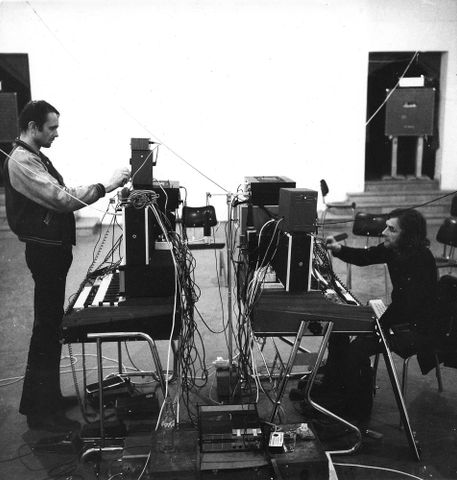 Astronauta Pinguim
E S B (Elektronische Staubband)
Qluster
Cluster/Kluster/Qluster is the one constant in Roedelius's musical career. Founded in the milieu of Berlin's Zodiak Art Lab, the pioneers of electronic music went through a variety of changes while influencing generations of bands. Before the current line-up of Qluster with Onnen Bock and Armin Metz sits down at the pianos, two of these will account for this factor: E S B (Yann Tiersen electronic side project) and Astronauta Pinguim from southern Brazil.
Biographies of the participating artists
Statements about Roedelius
ESB
"Each member of ESB is strongly influenced by electronic music pioneers. For us, Hans Joachim Roedelius has been one of the most creative musicians for decades, alongside his several projects. From old analog synths to delicate piano, the result is always an impressive pathway to an organic voyage."
Armin Metz (Qluster)
"For me, Joachim is an ever advancing let-it-happener of sparkling benevolent serenity."
Onnen Bock (Qluster)
"When I was about twelve, I found my brother's cassette of 'Selbstportrait.' I listened to the music during vacation while reading comics in bed and was released from time and space. Those brief, repeating melodies support the feeling of complete disengagement...
When I think of Achim today, the term 'art of living' comes to mind. Whereby the wording 'music of living' describes his work far more precisely. For me, he stands for the synergy of music and life, of life and music.