Perplexus
Entangled Perspectives on Participatory Citizenship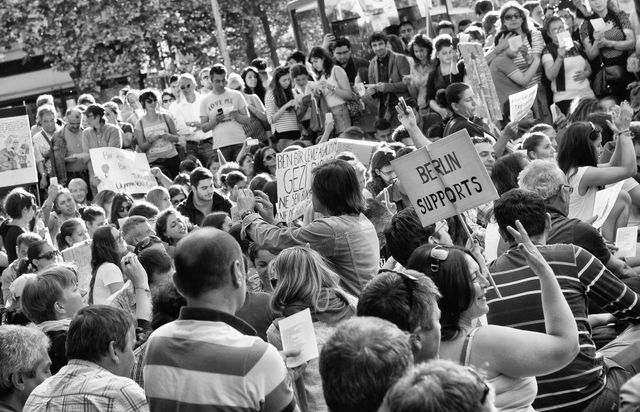 The demonstrations around Istanbul's Gezi Park in the summer of 2013 triggered intense debates in Germany. Are the recent movements capable of bringing about social change and inciting democratization processes? How do artistic productions intervene in the representation of the protests?
The symposium invites academics, artists and activists from Germany and Turkey to present new models and practices of citizenship that redefine the traditional boundaries of rights and duties in urban spaces.
With
Federica Bueti, Nikita Dhawan, Kotti & Co, Margit Mayer, Alper Şen, Jan Verwoert, Meyda Yeğenoğlu a. o.
Detailed program on www.protest-democracy.de
An event by the network "Toleranzübungen: Demokratie, Citizenship and Soziale Proteste" with support from the Federal Ministry of Education and Research and the Haus der Kulturen der Welt in the scope of the 2014 German-Turkish Year of Science
Program
2015, May 15, Fri
4.30 pm – 5 pm
Registration
5 pm – 5.15 pm
Welcome
Silvia Fehrmann (HKW)
5.15 pm – 6 pm
María do Mar Castro Varela (ASH Berlin) & Bariş Ülker (CMS/TU Berlin): Doing Tolerance: Democracy, Citizenship and Social Protests
6 pm – 7.30 pm
Key Note
Mahmut Mutman (Şehir University, Istanbul): Neoliberalism and Urbanism
7.30 pm – 8.30 pm
Performance
Federica Bueti/Jan Verwoert (Berlin): You Took The Words Out of My Mouth (Leftist Pedagogy and Its Discontents)
2015, May 16, Sat
10 am – 11.30 am
Gülden Erkut (Istanbul Technical University): Urbanization Process, Urban Policy and Protests in Istanbul
11.30 am – 1 pm
Panel I: Urban Protests – Voices and Silences
Tan Morgül (Çarşı, Istanbul), Adham Hamed (Leopold-Franzens-University, Innsbruck), Begüm Özden Firat (Mimar Sinan University of Fine Arts, Istanbul), Nikita Dhawan (Leopold-Franzens-University, Innsbruck)
Moderation: María do Mar Castro Varela
1 pm – 2 pm
Break
2 pm – 3.30 pm
Margit Mayer (Centre for Metropolitan Studies, TU Berlin): Urban Uprisings versus Participatory Citizenship
3.30 pm – 5 pm
Panel II: Whose City? – Democracy and Resistance
Ulrike Hamann (Kotti & Co., Berlin), Alper Şen (Artişkeler/Istanbul), Selda Asal (Apartman Projesi Istanbul/Berlin), Dilek Özhan Kocak (Giresun University, Tirebolu)
Moderation: Bariş Ülker
5 pm – 5.30 pm
Closing Remarks
6 pm – 9.30 pm
Film Evening: Films and Protests
Introduction by Meyda Yeğenoğlu (Bilgi University, Istanbul)
Istanbul United. Farid Eslam/Oliver Waldhauer, CH/CZ/DE/TR 2014, 90 min., Englisch/Türkisch.
Mietrebellen – Rent Rebels. Gertrud Schulte Westenberg/Matthias Coers, DE 2013/2014, 78 min., German with English subtitles, the director will be present.
At the Foyer
Post/Protesto: 3 Short Films
by Rima Najdi, Işik Şekerli, Alper Şen
bak.ma: Digital Media Archive of Social Movements in Turkey