Nelson Triunfo (Brazil) + Mamelo Sound System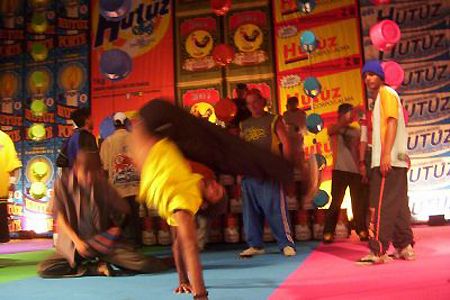 This late-night meeting place offers a Brazilian mixture of rap, hip hop, traditional song, dance and instruments, turntables, samba and its equally rhythmic predecessor, maracatú.
Nelson Triunfo (Brazil)
A legend of the Brazilian hip hop scene, Nelson Triunfo has personified the holy trinity of hip hop - break dance, rap and turntablism for more than three decades now. Inspired by the "Godfather of Soul", James Brown, and the Black Power movement, he founded the Soul Brothers and the band Funk & Cia in the nineteen seventies. Time and again, Triunfo draws attention to the plight of the Afro-Brazilian "former slaves". Nelson Triunfo is performing in Berlin with the music group Mamelo.
An event within the framework of Focus Brasil IN TRANSIT 06 / Copa da Cultura – Brasil + Deutschland 2006