Maracatu (Bahia/Brazil) + DJ Dolores (Recife/Brazil)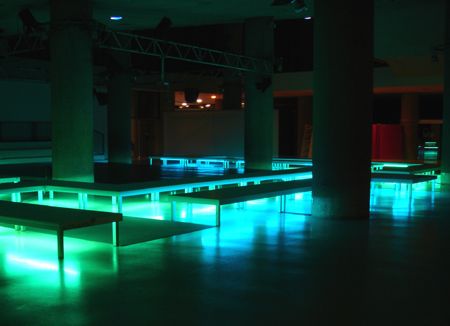 This late-night meeting place offers a Brazilian mixture of rap, hip hop, traditional song, dance and instruments, turntables, samba and its equally rhythmic predecessor, maracatú.
Funk and Maracatu (Bahia/Brazil)
The maracatu, a forerunner of the samba, is one of Brazil's oldest dances. Its roots can be traced back to Africa; the drums and flutes producing this sound come from "black" Bahia and combine religious candomblé and carnival. The gongue (bell) calls the tune, the military drums create a basic rhythm to which the deep wooden drums play variations. The musicians and dancers who command this style form a social group of their own, whose queen is sanctified in Candomblé: Three of these Maracuta will be guests in the Ballroom.
DJ Dolores (Recife/Brazil)
Mangue beat – mangue means swamp in Portuguese. In the subcultural swamps of old Recife in north-eastern Brazil, far away from the centre of the music industry, São Paulo, DJ Dolores works on this Brazilian sound of tomorrow. When DJ Dolores performs live with his Orquestra Santa MasSat., they fuse village folklore, tropical rock and electronic beats.
An event within the framework of Focus Brasil IN TRANSIT 06 / Copa da Cultura – Brasil + Deutschland 2006