Multimedia performance, Brazil 2014, 30 min
Dot, a videogame with no winner
Tue, Jun 3, 2014
Lecture Hall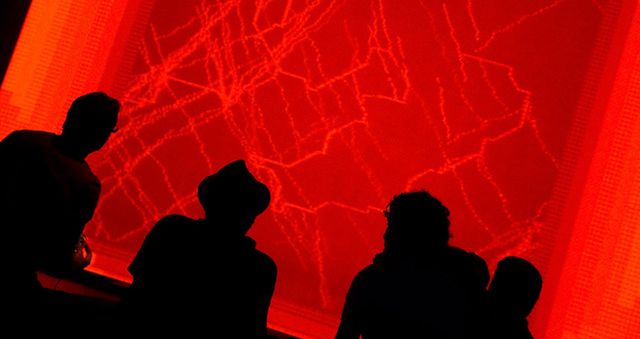 "DOT, a videogame with no winner" is an audio-visual performance played with a videogame console, constructed and reprogrammed, manipulated through joysticks. This contemporary, original instrument is autonomous. Several people from the audience are invited to take part directly during the concert and become player-actors. Each part of the performance is produced in real time, no sound is pre-recorded, they are the result of the interactions between the artist and the five player-actors invited.
Henrique Roscoe lives and travels in Belo Horizonte in Brazil. Artist, musician and renown designer, his artistic work has been presented and exposed at numerous festivals and museums across the world.
He works in the audio-visual field since 2004, and is the initiator of the conceptual and productive project entitled "HOLHOLHOL". These works explore the correspondences between sound and image in motion, and are performed live as concerts or installations. He is part of the "ligalingha" collective that develops interactive installations. He also constructs instruments and interactive interfaces using sensors and everyday objects. He produces videos for groups and events in Brazil, Germany and the USA. He is equally the curator of FAD Festival of Arte Digital, a grand event dedicated to digital art held at Belo Horizonte since 2007.
His works are mostly produced and exposed in Brazil at the contemporary art center Itaù Cultural and at Festival FILE Festival internacional de linguagem electrônica as well as Sónar (Spain), Art Basel (Switzerland), Robot Festival (Italy), Dialectos Digitales (Bolivia), Kunstfilmtag (Germany), Generative Arts (Italy), Espacio Enter (Spain), Videoart Athens (Greece), Computational Aesthetics (Canada).