Short films 1 Kplus
Admission: 4 €, groups of at least 5 people who register by phone: 2,50 € per person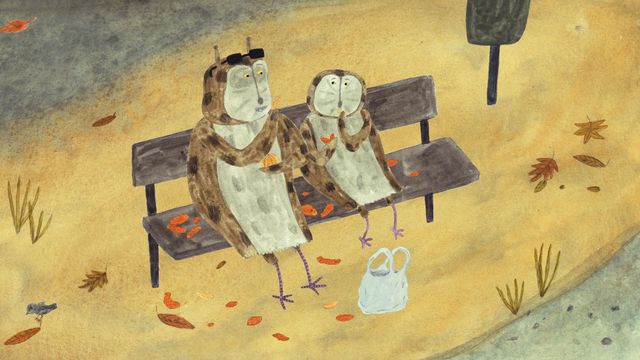 Kalle Kran
Director: Johan Hagelbäck
Sweden 2014, 6 Min, no dialog, age recommendation: 4 years and up
Kalle sits in his crane way high up above the houses. From here he can see everything that goes on below. If anything goes wrong, Kalle always manages to set things right. If anyone misbehaves, Kalle will soon show them what's what. If anyone drops litter on the pavement, they'll be in trouble with Kalle. If a person finds themselves pursued by a monster, Kalle will rescue them from their jam. And if anything is stolen, Kalle will retrieve it with his crane and return the item to its owner. Sometimes a little boy dreams that a little girl kisses him – and Kalle just has to have a little laugh in secret. Five entertaining episodes featuring Sweden's jolliest crane driver.
Sprout
Director: Ga-eun Yoon
Republic of Korea (South Korea) 2013, 20 min, Korean, age recommendation: 4 years and up
Little Bory's family has come together – as they do every year – to commemorate her late grandfather. Bean sprouts are missing from their meal and so Bory is sent off to market to fetch some. An unexpected detour takes her to places she has never seen before. During her odyssey, Bory encounters all kinds of people, learns new things and eventually meets a friendly gentleman who could be her grandfather. Portrayed through the eyes of its young protagonist, Sprout describes that magical moment when children begin to make their own discoveries, start to see the world with different eyes and intuitively make the right decisions.
Sartulis (Little Ruddy)
Regie: Dace Riduze
Latvia 2013, 9 min, no language, age recommendation: 4 years and up
The coloured pencils are a merry lot. One day, red Ruddy comes out of the pencil case too late and unsharpened. An annoying fly causes him to fall out of the window into the garden. Finding himself in a new world, Ruddy tries to make himself useful, but it seems he's not wanted anywhere. Strangely, wherever he goes the colour red appears to be missing. Ruddy really must get back to the drawing board where he's needed – but he'll require his new friends to help him get there.
An endearing stop motion animation which brings to life the world of objects and colours and relishes playing with different layers of reality.
Min vän Lage (My Friend Lage)
Regie: Eva Lindström
Sweden / Denmark 2013, 12 min, Swedish, age recommendation: 4 years and up
A little owl named Lage moves from the forest to the city. At first things come easy to the boy owl because everyone thinks he's really special; he even gets a job in television acting in natural history programmes. But one day all this comes to an end and Lage finds himself drilling holes into walls for a construction company. He's relieved when he gets fired and starts offering flying lessons instead. But his flying school isn't all that popular, and only one of his two pupils manages to take to the air and fly south. From time to time Lage meets up with an old acquaintance who so far has had no success in learning to fly. However, with Lage as her teacher her flying skills improve every day. A delicately ironic film that tells the story of a unique friendship.
Vasa
Regie: Janis Cimmermanis
Latvia 2013, 7 min, Fictional language, age recommendation: 4 years and up
The third Berlinale outing for this cheerful team of animated rescuers from Latvia. This time their services are required to deal with a plague of mice. Japanese tourists are the first to notice these sweet little chaps blithely romping around in a maritime museum. The museum attendants try everything they can to get rid of them but the mice are just too clever. The rescue team is needed at once. But even their cat fails miserably and the mice simply blow up their super vacuum cleaner.