Short films 2 Kplus
Admission: 4 €, groups of at least 5 people who register by phone: 2,50 € per person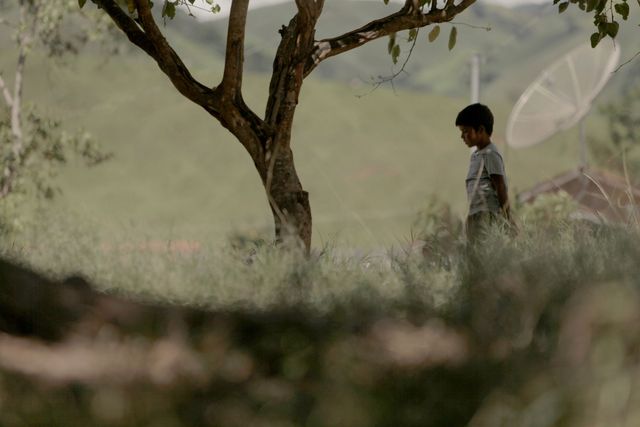 Agri ve Dag (Agri und der Berg)
Director: Hasan Serin
Türkey 2013, 14 Min, Kurdish, Turkish, age recommendation: 9 years and up
A remote village somewhere in the mountains of Turkey. It's sunny and the wind whistles between the humble dwellings. Two men shovel snow off a roof. A third slowly leads a donkey and another carries a bundle of hay on his back. Women are kneading dough for flatbread. There's not a car or road in sight. This village is home to Rojda. Early in the morning she gets ready for school, pulling a traditional dress over her modern jeans. Before she leaves, she lights a fire in the oven and makes the beds, just as her mother has instructed her. The wintry landscape is stunningly beautiful but her journey through the snow is long and difficult. Later, Rojda returns home exhausted. She longs to sleep. But grandfather wants his tea. This is what everyday life is like for a child in a place where the clocks seem to have stopped a century ago.
Nain Géant (Dwarf Giant)
Director: Fabienne Giezendanner
Switzerland / France 2013, 12 min, no language, age recommendation: 9 years and up
Petite Neige, an Inuit girl, must catch a bird before she can be admitted into the world of adults. Her test turns into a dangerous adventure when she encounters a menacing giant dwarf out on the ice who is constantly changing shape. The spirits of birds devoured by this bizarre monster come to the girl's aid. But then there's a huge whale beneath the ice, waiting to consume its prey. Inspired by a traditional Inuit fairytale, this animation is pervaded by the white of the landscape of snow and ice. It transports the viewer to a far-off, magical world where children live lives in close communion with nature but also battle to survive it.
Eu nao digo adeus, digo até logo (I Don't Say Goodbye, I Say See You Soon)
Regie: Giuliana Monteiro
Brazil 2013, 17 min, Portuguese, age recommendation: 9 years and up
He drives a bright red 1518 Mercedes truck. This is all the boy who lives with his mother on an impoverished country road knows about his father. Nonetheless, in his imagination he accompanies his Dad wherever he goes. The boy is thrilled one day when such a truck actually passes by, even though his mother denies it could have been his father. A few nights later the boy sees his mother dancing with the truck driver. He may be too young to understand what his mother is saying when she tells him the truth, but he's old enough to set off on his own into the world of grown-ups. A melancholy, poetic film about the unbridled power of childish longing.
Hijos de la tierra (Earth's Children)
Regie: Diego Sarmiento
Peru 2014, 15 min, Spanish, Quechua, age recommendation: 9 years and up
Early in the morning, young Jorge sets off with his machete to harvest bananas, making every blow count. After the bananas have been boiled it's time for breakfast. After that, Jorge and his friends are free to wander the lush vegetation that surrounds their home – climbing, having fun, singing harvest songs and splashing about in the headwaters of the Amazon. Seen through the eyes of children, these everyday scenes describe the peaceful lives of an indigenous village community in the midst of their primeval environment. Here, everyone helps to grow food. There's not much left over to sell, but money wouldn't appear to be the most important thing anyway.
el (away)
Regie: Roland Ferge
Hungary 2013, 11 min, Hungarian, age recommendation: 9 years and up
A vision in black-and-white. A girl's face, then a boy's, followed by another boy's. Eight children stare motionlessly into the camera with a serious expression on their faces. Then one of them packs their suitcase, leaves the secluded farmhouse and sets off down the muddy path. The other kids are now also on their way, either on old bicycles or on foot. Each has a suitcase; one also has a cello and another is carrying two chickens in a box. Their journey is arduous, the roads are poor, there are steep steps to negotiate and the suitcases are heavy. Eight children on the move – their destination uncertain.