One Minute Bahnhof Zoo
Schiller-Gymnasium with Constanze Fischbeck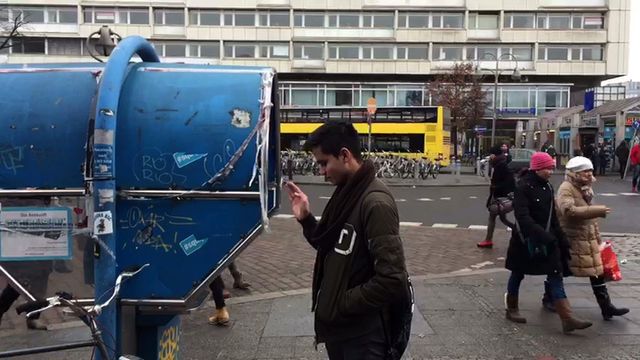 The art class and students in a 'welcome class' investigated an everyday place near their school, Bahnhof Zoo train station. It is a place that represents arriving, waiting, temporary stays, going away and staying. They developed a tableau of various perspectives of objects, traces, passers-by, migration stories and themselves. Using seven smartphones, docu-fictional snapshots were produced, each describing one minute on January 20, 2017 at Bahnhof Zoo.
Schiller-Gymnasium is a Gymnasium and German/English Staatliche Europa-Schule in Berlin Charlottenburg.
With Haya Al-Abasee, Aya Al-Abasee, Jola Bardo, Lily Bartholomew-Günther, Charlotte Braun, Alys Burton, Ellis Coe, Flynn Coe, Arberia Duraku, Casper Fischer, Naomi Freis, Yassin Hiljazi Senhaji, Sozan Ibrahim, Olivia Johnston, Rèyam Joumarin, Gökhan Karabulut, Ramiz Khan, Clara Lehrer, Pauline Maidowski, Eissa Nasrah, Elian Nasrah, Laura Raminez Fernandez, Luisa Rauschenbach, Felizia Schott, Karlen Schwartz, Aydeniz Seveniz, Vera Sicherschmidt, Mohamed Tanzani, Acelia Tat and others
Constanze Fischbeck is a stage designer, video artist, lecturer and curator. She combines spatial analysis with performative, documentary and discursive approaches. Among other projects, she initiated the art, film and research project state-theater (2009-2014) with Daniel Kötter, which was realized in the cities of Lagos, Tehran, Berlin, Detroit, Beirut and Mönchengladbach. In addition to numerous screenings and presentations, the series was exhibited at FFT Düsseldorf, at the SALT Gallery Istanbul and at the Venice Architecture Biennial in 2014.