Mirror(ing) Exercises
Kurt-Schwitters-Schule with Branka Pavlovic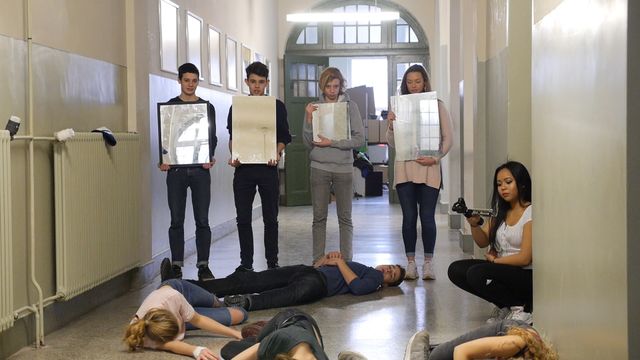 In a video workshop, 11th grade students grappled with questions of identity and representation. In this process, the camera and the mirror functioned as invisible boundaries and at the same time as connecting elements between real and imaginary worlds. Dance exercises and film excerpts on mirror symbolism in film formed the starting points for the students' personal artistic research. In the second phase, they produced their own short videos that converge in a choreographic video installation.
Kurt-Schwitters-Schule is an integrated secondary school and German/Portuguese Staatliche Europa-Schule in Berlin Prenzlauer Berg. With Albrecht, Hieronymus Benndorf, Zoe-Tokessa Böhm, Lena Marie Brauer, Samira Bürmann, Kira da Silva Soares Vetter, Jan Christoph de Souza Batista, Eduarda Dinkhuijsen da Silva, Tiago Eckert, Leon-Justin Kretschmer, Josephine Kyselov, Vladyslav Macknow Lisboa, David Matos Garrett, Rochelle Mazanene Junior, Carmen Sebastião Pinela de Freitas, Miriam Alexandra Raccah, Luis Rudnick, Klara Josephine Schmidt, Nicolas Schwemmlein, Benita Maria Stenger (Sander), Milena Talmon l'Armée, Lennart Tiemann, Fana Jonas Sylla Torrão dos Santos, Celine Ullah, Ivan Edu Wagner, Arthur Ion Lukas Yingcharon, Arisa and others
Branka Pavlovic is a filmmaker and video artist. She completed her MA at the Institute of Art in the context of the UdK, Berlin. Since 2006, she has been working freelance as a video artist, camera operator and film editor in Berlin and Belgrade. She works in the documentary and theater sector, for example in the field of mediation and workshops with teens and young adults. She is a member of the spreeagenten Berlin theater company and the Metanationale artist group. Since 2009, Pavlovic has been the program director of the Belgrade Slobodna Zona Human Rights Film Festival.