Album Covers - Berlin Bands of Tomorrow
Alfred-Nobel-Schule with Isabell Spengler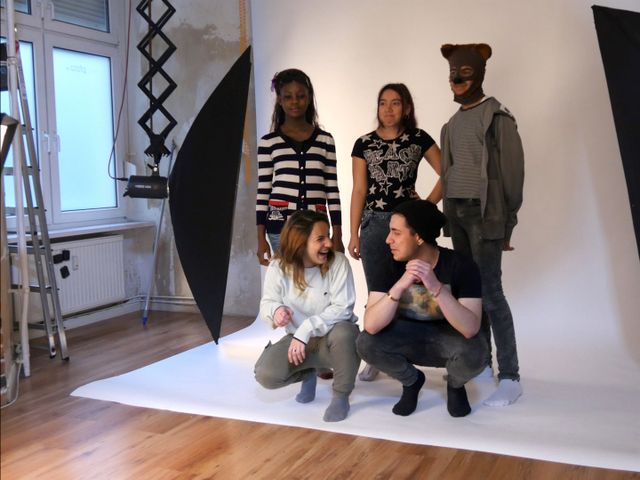 Students from a tenth grade and a 'welcome class' at the German-Italian school joined together in fictional bands and visualized their view of Berlin by designing album covers. In a playful process with a photographic investigation at Alexanderplatz, reenacting a photo shooting in a studio, and the experimental design of moving photo backgrounds in shoeboxes, the students explored the possibilities of representing music and their identities as a fictional band. The record covers appear under band names such as "Die Frage" (The Question) or "Anonymous" and with song titles in various languages, including "Fulmine" (Italian for lightning), "Yazidis" and "Turn Alexander" (Romanian for Alexander Tower, a landmark of Berlin).
Alfred-Nobel-Schule is an integrated secondary school and German/Italian Staatliche Europa-Schule in Berlin Neukölln. With Ella Nana Agyemang, Alina Francesca Costin, Ana Maria Costin, Abdullah Al Abdullah, Vinuar Tallal Turki, Nawar Tallal Turki, Mara Piras, Angelo Smiroldo, Michelangelo Ciccarese, Teodora Atanasova, Andrea Margot Montedoro, Katherine Ogana and others
Isabell Spengler is a filmmaker working within the realms of both film and performance. In collaborations, Spengler develops concepts and experiments in which pictorial representations are transformed into cinematic structures using photography, drawing, performance, costume design and model making. She studied under Valie Export and Heinz Emigholz at the Berlin University of the Arts and under James Benning at the California Institute of the Arts. Since 2004, she has been teaching at the Universität der Künste Berlin.