Mishtoro
Albert-Einstein-Schule with Merle Kröger (Pong Film) and Izadora Nistor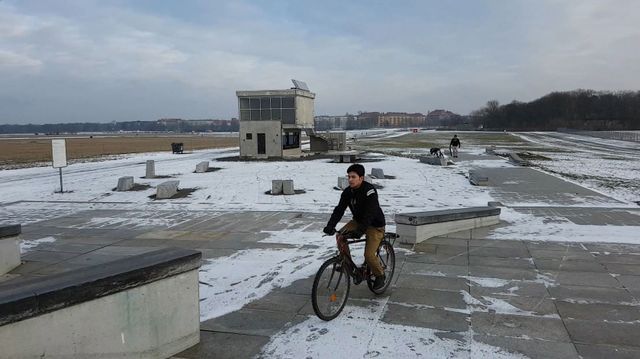 Mishtoro means "pretty good, not bad!" It is an often-heard reply by Izadora from Romania when asked how she is doing in Berlin-Wedding, in the 'welcome class' for refugees. Arriving in a new language, a new life, is complicated. What do the boys and girls from Syria, Afghanistan, Macedonia and Serbia need for coping with it? Music in their ears, in new favorite spots, playing sports, on their own or with those who might become their friends. Eight film snapshots of students in the ninth grade and a Welcome Class at Albert-Einstein-Gymnasium are about having arrived in Berlin.
Albert-Einstein-Schule is a Gymnasium and a German/Italian Staatliche Europa-Schule in Berlin-Neukölln. With Bashar Abdalla, Greta Andorlini, Ilir Boerger,Riccardo Conforti, Faisal Darouzi, Sarah Discacciati, Leonardo Eleuteri, Lukas Gallucio, Abdul Raqeeb Hoshmand, Adelina Ibraimi, Julia Jahn, Lares Koplin, Ester Liebscher, Malina Lorenz, Jeanila Nafarieh, Rouaa Nafiseh, Dejana Nikolic, Jovana Nikolic, Francesco Pellino, Florian Reipert, Lalo Scola, Matteo Tausch, Enzo Toscano, Marlene Trincia and others
To the biography of Merle Kröger
Izadora Nistor is a student in a 'welcome class' in Berlin. She bought a camera in 2014 and has since created numerous videos and photos. Nistor met Merle Kröger and Philip Scheffner in 2011 in Faţa Luncii, Romania, and since then has worked with them on various film and art projects e.g. documentary films shown at the Berlinale Revision (2012) and And-Ek Ghes (2016) and the video installation Izadora (2017).