Past Disquiet. Narratives and Ghosts from the International Art Exhibition for Palestine, 1978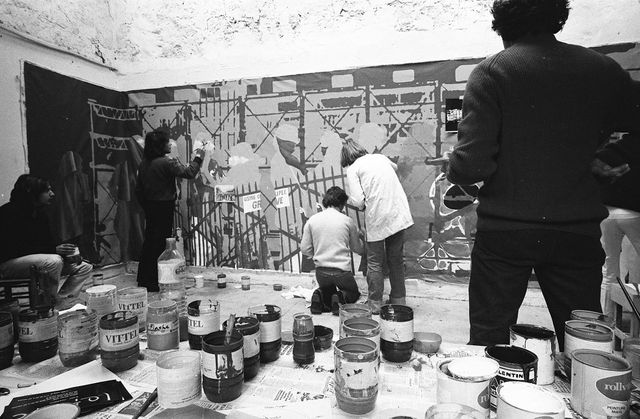 The size and scope of the 1978 International Art Exhibition for Palestine was unprecedented in the region. The reconstructed story of the exhibition traces complex and sometimes intersecting networks, as well as a rarely explored shared history of politically engaged artists mobilized in different modes around forefront causes – against the Vietnam War, the Pinochet dictatorship, the Apartheid regime in South Africa, and in support of the Palestinian struggle – inscribed in the international anti-imperialist movement of the 1970s.
The absence of conventionally preserved and indexed archives around the International Art Exhibition for Palestine implied that attempting to reconstitute the story of its making was closer to detective work and eventually opened a Pandora's box of forgotten legacies. Weaving contemporary interviews and testimonials, yellowed newspaper and magazine clippings most of which are no longer in circulation, documents from unknown personal archives, posters from revolutions that have lost their fervor, photographs stored in boxes that had not been opened in decades, and film footage, it proposes a speculative historical reconstitution of that universe. In transforming the research into an exhibition, Past Disquiet interrogates archival practice, documenting art history and how to construct a speculative history for an exhibition the official archives of which have been lost.
Past Disquiet, the outcome of research conducted by Kristine Khouri and Rasha Salti for over five years, was made possible through the generosity of over a hundred individuals who entrusted their recollections, insights, personal anecdotes, time and allowed their private archives to be shared with the public. The present iteration of the exhibition is enriched by research conducted in Germany, and the production of new elements that deepen questions which have permeated the project further.
Past Disquiet is curated by Kristine Khouri and Rasha Salti. Originally conceived and presented by the Museu d'Art Contemporani de Barcelona (MACBA) in 2015. The Berlin version is a production of Haus der Kulturen der Welt, Berlin, and MACBA. The research for this project has been made possible by the generous support of Rana Sadik and Samer Younis, the Sharjah Art Foundation, the Arab Fund for Arts and Culture (AFAC), ZedGrant, the A. M. Qattan Foundation, and Tensta konsthall.
Part of Kanon-Fragen 2016-2019