Madeleine Thien: Flüchtige Seelen
Translated from the English by Almuth Carstens
Luchterhand Literaturverlag 2014
(Dogs at the Perimeter; McClelland & Stewart, Toronto 2011)
About the book
In her new novel, Madeleine Thien pursues the memories, injuries, and dreams of her figures from current day Canada back to the tropic jungles of Cambodia in the 1970s, when the Khmer Rouge sought to establish a new social order with a brutal regime of terror and the murder of millions of people. With a clear soft language, she tells of the loss and regaining of humanity.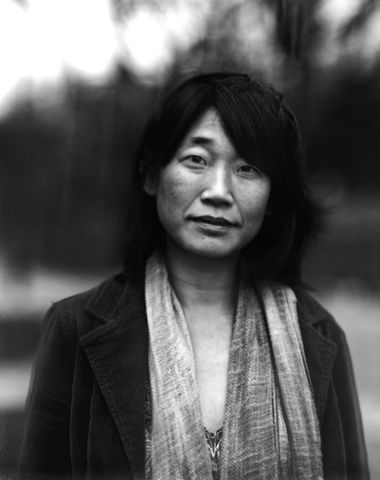 About the author
Madeleine Thien, born in Vancouver in 1974 as the child of Chinese-Malaysian immigrants, studied dance, literature, and creative writing at Simon Fraser University and the University of British Columbia in Vancouver and began writing during her student years. Her first book Simple Recipes, a collection of short stories, was awarded with four Canadian literature prizes and her debut novel Certainty was translated into sixteen languages. In 2010, Madeleine Thien received the Ovid Festival Prize. She lives in Montreal.
Recent publications:
Einfache Rezepte
Luchterhand 2008, trans. by Almuth Carstens
(Simple Recipes, McClelland & Stewart, Toronto 2001)
Jene Sehnsucht nach Gewissheit
Luchterhand 2007, trans. by Almuth Carstens
(Certainty, McClelland & Stewart, Toronto 2006)
Do not say we have nothing
Granta Books/Portobello Books, London 2016
About the translator
Almuth Carstens, born in Kiel in 1948, studied sociology and lived in America for many years. The translator of writers such as Kathy Acker, Jane Rogers, Alice Sebold, and Jeff Talarigo, she lives in Berlin.
Recent publications:
Elin Hilderbrand: Das Sommerversprechen
Goldmann Verlag: München 2015, trans by Almuth Carstens
(The Matchmaker, Little, Brown and Company, New York 2014)
Elin Hilderbrand: Sommerhochzeit
Goldmann 2014, trans. by Almuth Carstens
(Beautiful Day, Little Brown, London 2013)
Elin Hilderbrand: Ein Tag im Sommer
Bloomsbury Berlin 2013, trans. by Almuth Carstens
(Summerland, Reagan Arthur Books, New York 2012)
Madeleine Thien: Einfache Rezepte
Luchterhand 2008, trans. by Almuth Carstens
(Simple Recipes, McClelland & Stewart, Toronto 2001)
Madeleine Thien: Jene Sehnsucht nach Gewissheit
Luchterhand 2007, trans. by Almuth Carstens
(Certainty, McClelland & Stewart, Toronto 2006)
The jury on the short list nomination
"Canada, the secure host country, and Cambodia of the Khmer Rouge are the two poles that provide the prospect for this impressive novel, before which the exciting story of the narrator Janie develops. By way of the remains of a brain researcher, Janie is confronted with her origins, and once again lives through the unspeakable horrors of a civil war that she thought she had left behind her and which cause disturbances in perception and insecurity. Dogs at the Perimeter is a poetic and impressive narrative, that, in an unadorned and fascinating manner, opens one of the most horrific chapters of human history, that can only be told from the relentless mirror of a supposedly sure distance. A silent, touching novel, that has lost nothing of its suggestiveness and force in the subtle translation by Almuth Carstens."