Das Anthropozän. Zum Stand der Dinge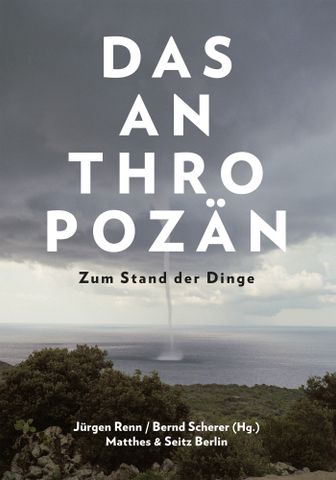 Editors: Jürgen Renn and Bernd Scherer
With essays by Jane Bennett, Dipesh Chakrabarty, Paul Edwards, Rüdiger Kruse, Armin, Linke, Anne Peters, Jürgen Renn, Bernd Scherer, Peter Sloterdijk, Benjamin Steininger, Davor Vidas, Jan Willmroth, Jan Zalasiewicz
260 pages, German
Publisher: Matthes & Seitz Berlin, 2015
ISBN DE: 978-3957571533
Price: 24,90 €
Out of print, possibly available in antiquarian bookshops. Book on zvab.com
"It is a world of our making, but not of our choice."
Georges Monbiot
The anthropocene, the "age of humankind," has brought us to a tipping point. It consists not merely of the fact that climate change has reached a point where it is self-reinforcing or that "natural" resources are becoming dramatically depleted. When what we previously understood to be nature is now made by humans, dualisms such as nature/culture or subject/object no longer function in the accustomed fashion. The unbreakable chain of industrial metabolism, climate change, urbanization, soil erosion, and the extinction of species as well as a new social (self-)consciousness have shown that the rapid reformation of cause and effect, means and end, quality and quantity requires a new approach to the world that aims not at postmodern discourse but material processes. A new sense of amazement at the wonder of the earth is needed. What can we do, how can we know, and to what extent are these two questions connected? With what means, methods, and senses can we encounter the world of our own creation? The anthropocene is both a responsibility and an opportunity. Humankind makes the decisions but can only do so if knowledge and actions remain correlated.
The essays range from a look back at the invention of writing four millennia ago to the decisive historical-cultural threshold of the modern era when humankind stepped out of its role as an integral part of the natural cycle, to the current diversifications of the anthropocene, whether the chasm between global character and regional interests, whether case studies as that on international maritime law, whether the economization of nature as capital, or the question of the rights of animals as persons.
The editors
Jürgen Renn is the director of the Max Planck Institute for the History of Science and honorary professor of the history of science at Humboldt-Universität and the Freie Universität Berlin.
Bernd Scherer is the director of Haus der Kulturen der Welt and honorary professor at the Institut für Europäische Ethnologie of Humboldt-Universität, Berlin.