On Rage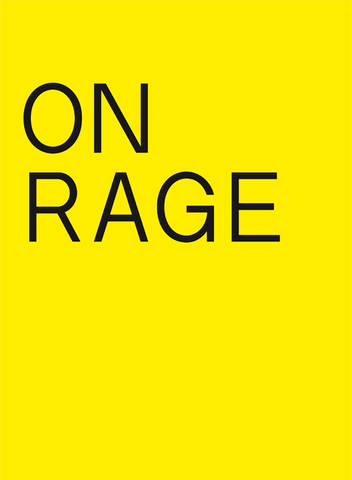 Editors: Valery Smith, Susanne Stemmler and Cordula Hamschmidt for the Haus der Kulturen der Welt
Language: English
432 pages, 141 coloured and 81 b/w images
Revolver Publishing by VVV, 2011
ISBN: 978-3-86895-135-6
Price: € 25
Available at bookstores and in the shop at the Haus der Kulturen der Welt.
This book explores instances of rage and how their place in people's lives are being expressed and manifested in the body and the mind. We relate rage not only to its immediate outburst but also to abstract forms of dealing with the tipping points in human behavior. We consider larger political issues, those moments when rage marks the failure of diplomacy, when negotiation breaks down or is simply nonexistent, when other unconventional or socially unaccepted forms of expression come into play.
By presenting a phenomenology of rage across cultures and timelines we would like to re-think rage as a state of being. This may lead to a rehabilitation of this affect and be the point of departure for new forms of less mediated thinking. Protest—be it organized or not—is the signature of our times. Together with a feeling of an economical, ecological or political crisis, this leads to states of emergency that may help to develop new strategies of survival in this world.
The book is set up as an alphabetical glossary with entries from "Amplifying" through "Blood," "Containment," "Monsters," "Silence" and others to, finally, "Wild West." With artist works—partly commissioned for the exhibition "On Rage" in spring 2010—, discussions, lectures, essays, poems and much more the volume aims to be a full-fledged encyclopedia of one of today's foremost emotions.
With contributions by
Jimmie Durham, Tadeusz Kantor. Abdelwahab Meddeb, Terézia Mora, Michael Rakowitz, Monika Rinck, Mick Taussig, Stefan Weidner, Aaron Ben Ze'ev, Jean Ziegler and others.