Multikultur 2.0. Willkommen im Einwanderungsland Deutschland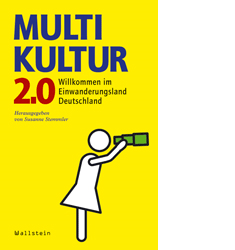 Editor: Susanne StemmlerOut of print, possibly available in antiquarian bookshops. Book on zvab.comA publication by the Haus der Kulturen der Welt
German
336 pages
Wallstein Verlag, Berlin 2011
ISBN: 978-3-8353-0840-4
Price: € ca. € 19,90 (D), ca. € 20,50 (A), ca. CHF 30,50
Out of print, possibly available in antiquarian bookshops. Book on zvab.com
Word had it recently that the multicultural model has failed. But jumping to this ideological conclusion distorts our perception of our multicultural daily reality. A more important question is what comes next, after multiculturalism? Beginning with an international, critical review of the concepts of the 1990s, "Multikultur 2.0" programmatically introduces new concepts and instruments for German and European society in the context of immigration.
With contributions by
Arjun Appadurai, Kwame A. Appiah, Klaus J. Bade, Nevim Çil, Dan Diner, Kein Nghi Ha, David Hollinger, Serhat Karakayali, Sema Kaygusuz, Navid Kermani, Claus Leggewie, Wilfried N'Sondé, Cem Özdemir, Günther Piening, Tariq Ramadan, Hilal Sezgin, Hito Steyerl, Rita Süssmuth, Mark Terkessidis, Stephen Vertovec, Michael Werz and others.